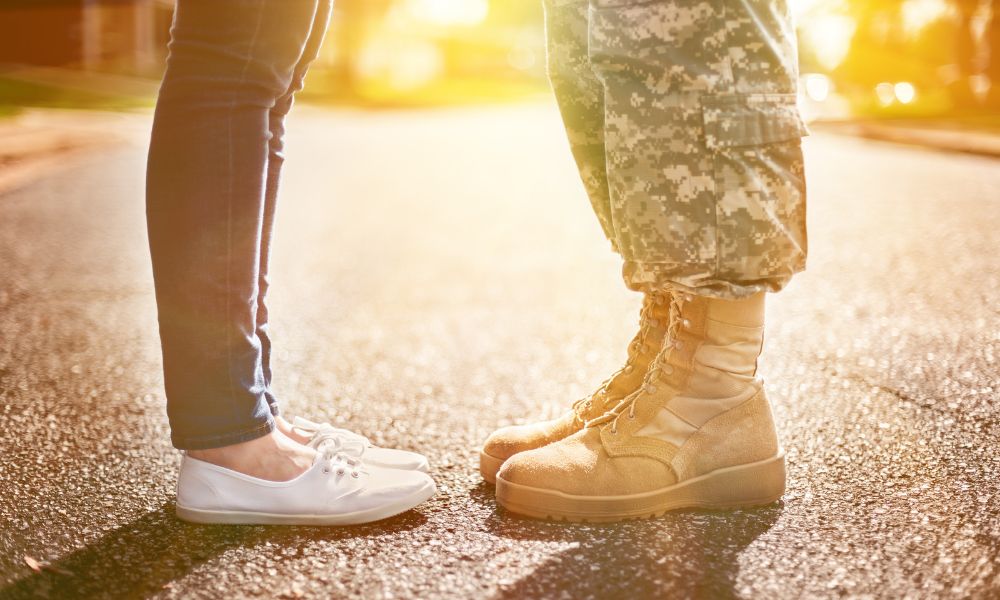 Deployment challenges a couple or a family in various ways. To successfully fulfill their orders overseas, soldiers often find themselves thousands of miles away from their families, separating them from one another for short or extended periods.
Although the act of traveling abroad to unfamiliar territory mainly affects the service member, the emotional and mental impact on their family stateside is not something to dismiss. Such a time can be intimidating and prompt a plethora of thoughts within a family, influencing uncertainty, doubt, and fear, among other emotions.
However, understanding the emotional cycle of deployment is a valuable step to consider, especially when preparing for a tour. Here, you'll learn about the different phases many families experience while their loved one is overseas.
Anticipation of Loss
This phase is typically most present during pre-deployment. Around six weeks prior to the tour, you'll notice that service members have an increased responsibility in readying their units for travel.
While spouses and partners may already be experiencing a degree of solitude, it's expected for individuals to experience shifts in emotions such as anxiety and depression during this period.
These emotions may cause friction in households and relationships, usually manifesting through arguments or stressful conversations. If your partner is the individual deploying, it's also common to resent yourself for experiencing negative feelings.
Despite these heightened emotions, try your best to cherish every moment you have with your loved one in these upcoming weeks instead of bickering with one another. There will soon come a time when your loved one won't be present, and you'll regret not spending more tender moments together.
Withdrawal and Detachment
This phase occurs during the last week before deployment; military partners may notice certain emotions come to their peak during this period. On the other hand, some families may avoid such moods altogether.
This tension can continue to affect relationships in more ways than anticipated, and some partners may put together a laundry list of tasks to avoid communicating with their service member.
The growing distance between couples and families can influence feelings of detachment, often masking as desperation for their service member to "just leave already." It's common for children to also become angry or confused during this phase.
Many young ones may think they are blame for their parent's departure. While leaving them with a babysitter when you send your loved one off is tempting, it would be best to include them as much as you can throughout the process.
Elevated Emotions and Disorganization
This phase is the most difficult and nerve-racking of them all, and rightfully so! At this stage, service members are now making their way to their locations in preparation of their assignments. As they settle into their mission mindsets, their priorities may shift to assist their unit.
During this time, it's easy to think service members are putting their families last; however, this is far from the truth! Soldiers, Marines, airmen, and sailors will be setting up camps and carrying out assignments that may keep them away from communication.
Spouses and families will shed plenty of tears, and morning routines will look different for the first few weeks. While partners can expect to wake feeling lonesome and overwhelmed, working through disruptions in routines and shouldering responsibilities may seem impossible.
It helps to sit out of commitments during the upcoming months to avoid overfilling your plate. In households with children, consider taking time to discuss the new routines with young ones.
Children may appear the most upset during this time, so you'll want to reassure them of their feelings and seek professional assistance if behaviors are out of your scope.
Routines and Recovery
After the initial six weeks of the deployment, households may finally start to regain their footing. After much trial and error, families may begin to settle into their new routines, re-establishing confidence and independence.
While families may encounter strained communication in the last phase, this period marks the start of better days. As communication improves and children adapt to their new normal, families will encounter a newfound stability that will keep them strong during the rest of deployment.
As they discover their abilities and strengths, spouses and partners of service members may now begin making plans upon their loved one's return. Breathing a sigh of relief, everyone may begin anticipating their service member's return to the home front!
Homecoming Anticipation
Anticipating a loved one's return signifies the home stretch of deployment! Occurring during the last few weeks of the tour, service members will begin prepping for their return and exchanging duties to incoming units.
On the home front, families will begin the planning process to welcome loved ones. From anxiety to happiness, families may experience plenty of emotions! It's also common to experience a bit of apprehension when thinking about what life may look like upon a service member's return.
Children also experience this phase differently. While younger kids may experience excitement in knowing their parent will soon be home, older children may feel fear that they didn't meet expectations while their parent was away.
Homecoming
Partners and families can expect to feel awkward during the first few interactions following a service member's homecoming. But give each other grace! After so much time separated from one another, it's okay to feel nervous upon being reunited!
Children may ask questions or appear to say "the wrong thing" when welcoming their parent home. Try not to take this personally! Just like adults, children are only trying to cope with having their parent back home.
Reintegration
Surprisingly, deployment doesn't end the day loved ones return home; service members may need some time to reintegrate into family dynamics and relationships. During the adjustment period, everyone may have to establish their new normal once more.
It isn't uncommon for children to experience a few behavioral shifts during this time; younger children may have difficulty accepting their parent's return in fear of another departure. Furthermore, teens may enter a rebellious phase to cope with their resentment toward their returning parent.
Understanding the emotional cycle of deployment can be complex; the cycle may appear different to everyone since no person experiences this scenario the same. Within each household, family members may stay in one phase longer than others or skip certain mindsets altogether.
No matter how your process manifests, it helps to know that you are not alone! Separation wears on the heart and mind, but relying on your family's support system is one of the best courses of action to cope with deployment.
Deployment can change the dynamic of any relationship; however, having a loved one overseas doesn't mean you have to postpone all your plans. Here at Proxy Marriage, our services focus on military proxy marriage, allowing you to cement your bond while you're miles apart. For more information, please visit our webpage to acquire your digital marriage kit.