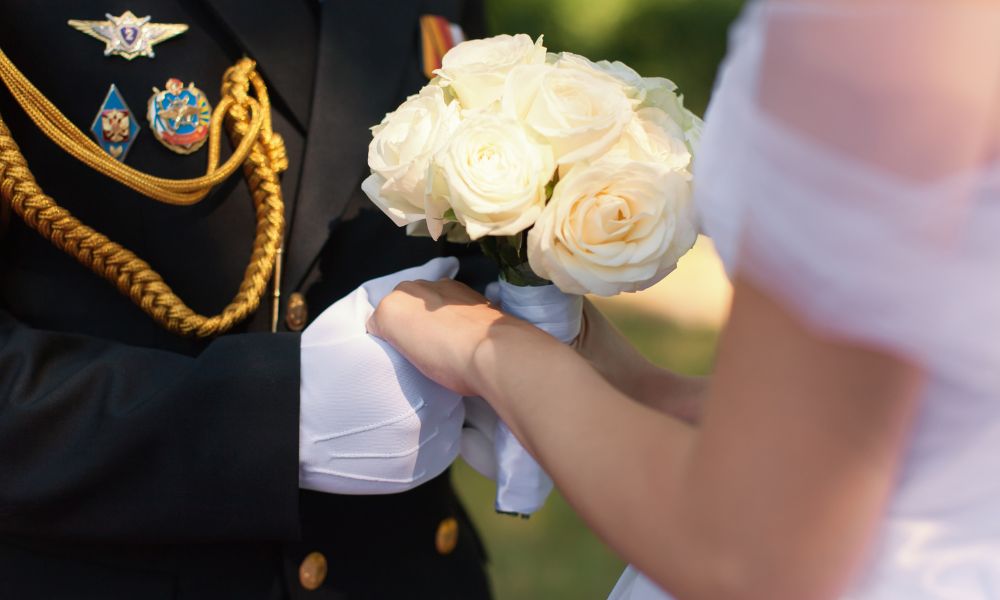 Proxy weddings are legal marriage ceremonies that occur when one or both partners can't be physically present. Montana is the only state that permits double-proxy weddings, where neither one of the engaged couple can be there in person. But what are the requirements for a double-proxy wedding? Learn the answers below and equip yourself with the information you need in the event that deployment upsets your wedding plans.
Required Paperwork
If you're a resident of the state of Montana, you're eligible for a double-proxy marriage if you and your fiancé(e) cannot be physically present. Members of the military who are categorized as active duty are also eligible for double-proxy weddings.
Be prepared to provide copies of your Montana driver's license, military ID, passport, or social security card. Documentation of Montana residency or current military service is necessary for proxy marriage—Proxy Marriage can obtain the marriage license for you.
If you'll be marrying a citizen of another country, an additional document called an apostille is required. An apostille is an internationally recognized document that authenticates the other documents that a citizen of another country submits in support of an application for a marriage license.
Proxies
Your proxy is the person who stands in for you at your marriage ceremony. They'll say the vows on your behalf and sign the marriage certificate with their name "as proxy for" yours. Your proxy must be someone who can be physically present at the wedding ceremony. We at Proxy Marriage can stand in for you if necessary. However, none of this can happen until you sign and return the proxy authorization forms, granting your proxy the legal right to stand in for you at the wedding service.
A Ceremony
The next step is the ceremony itself. A person authorized to perform marriages in the state of Montana will conduct a marriage service with the two proxies representing the engaged couple. Once the marriage is pronounced, the proxies sign the marriage certificate, and Proxy Marriage files that document with the county clerk's office.
Typically, 48 business hours after the county clerk's office receives the signed marriage certificate, the office can issue an official copy that we'll send to you. You can use that certified copy to prove to military and local government officials that you are legally married. Except for Iowa, all US states and territories and the Armed Services recognize the validity of proxy marriages.
If deployment has interrupted your plans to be married, you can still go through with a double-proxy wedding. If you have questions about whether you're eligible for proxy marriage, contact us at Proxy Marriage: A Big Sky Event, and we'll be happy to help.