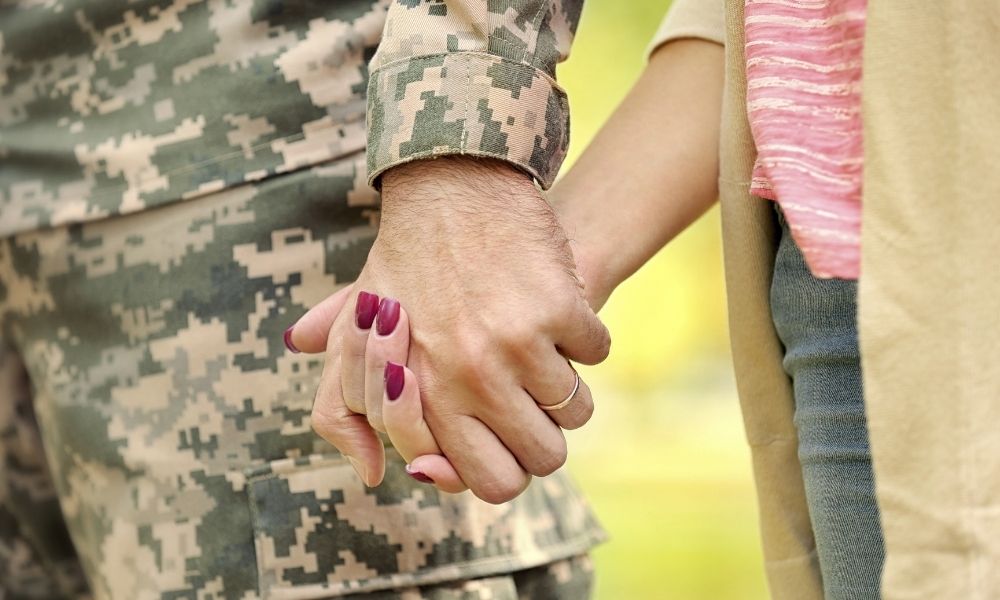 What if you find "the one," and they disappear the next day? Military relationships can feel like a chapter from The Time Traveler's Wife, where the person you know disappears, then reappears months or years later, older and somehow different. Deployments will happen, often on a moment's notice.
If you're romantically involved with an active-duty member of the armed forces, these tips on how to make a long-distance military relationship work should help you through times of separation. Whether you just met them or you've been married for a while, you can readjust to being together again when your partner comes home.
Make a Technical Communication Plan
When your partner is home, plan how you will communicate when they're deployed. Your partner may have limited access to cell phones or cell phone service; there may be designated times they're allowed to use computers to Zoom, FaceTime, or Skype with you.
Map out the details in advance so when the call comes and your military partner departs, you'll already know when you'll be able to connect via phone, tablet, or laptop.
Supplement Tech With Letters, Cards, and Care Packages
Technology has provided ways to connect that earlier generations of military service personnel could only dream about. Seeing a loved one on FaceTime, Zoom, Skype, or a cell phone video call was the stuff of futuristic fiction.
Now, however, you have many choices about what type of devices you'll use to communicate. Yet there's something about a physical letter that's more enduring. Your video call will end, and you'll each go back to your daily duties, but a letter is something you can pull out and re-read over and over again. Generations of service members yearned for them and kept them close as a way to have some kind of physical contact with home.
Send letters with details about your daily life, milestones your kids have reached, or funny things they've done. Your partner will keep those letters safe and enjoy re-reading them frequently.
Remember that there's nothing lonelier than being the person who doesn't get a card on Valentine's Day or any other holiday you observe during the year. Mark the days and select cards well in advance to send so they'll arrive on time to let your loved one know you are thinking of them.
Deployments come with less-than-gourmet food and a good dose of boredom between intense bursts of activity and danger. Send care packages full of favorite, nonperishable foods, fresh socks, and personal hygiene products that may be in short supply where your loved one is serving.
Military life is sometimes described as "hurry up and wait." Bursts of intense activity are followed by hours, even days, of boredom. Be sure to include books, crossword or sudoku puzzles, decks of cards, or even art supplies in your care packages if your partner likes to draw. Your partner will appreciate having something to do to pass the hours of downtime.
Stay Busy
There's no use moping around feeling sad that your partner can't be with you. Put your energy into your job and schedule recreational and volunteer activities that keep you active and involved in your community. Volunteering is a great way to make new friends and take your mind off being apart from your partner.
Accept Support From Your Network
Military life demands that couples be resilient, self-sufficient, and independent. But taking on all the responsibilities of childcare, home maintenance, and financial management in a partner's absence can wear you down. Don't hesitate to reach out to a network of similarly situated people for support.
Just as service members support each other, their non-military significant others form networks of support to help each other get through the tough times. You'll meet great friends this way, and they'll be people who understand what you're going through.
If you're not married to your partner, you could be frustrated by some of the rules that exclude you from some of the benefits of military life. Military spouses get special IDs that permit them to enter military bases, shop at military commissaries, and live in military housing. Spouses receive important communications from the ombudsman for their partner's unit.
If you're not married, it may be difficult to receive those updates. Ask your partner to request that you be added to the list and for your contact information to be put on record for emergency communications.
To gain the full benefits of being a military spouse, you and your partner can consider getting married if you know you are committed to one another and you're sure you're ready. Double-proxy marriage allows you to formalize your relationship even if one or both of you are deployed. All that's required is that one of you be an active-duty service member or a resident of the state of Montana. You can get married during deployment and have a beautiful ceremony when you're both back home.
Set Goals
Working toward a goal together keeps you feeling connected while you're separated in a long-distance military relationship. Perhaps you're striving to save money for a home improvement project or a big purchase, like a new car. Or maybe you are both working toward a degree via distance learning. Sharing goals gives you something to cheer each other on about, check in with, and celebrate when you achieve them.
Read and Listen Together
Sharing playlists or reading the same book at the same time gives you a sense of connection. You'll have an instant topic of conversation when you video call. Plus, you can share how you were thinking about your partner as you read a particular passage or listened to a shared song.
Be Flexible
You may be divided by multiple time zones. Set your communication schedule so it is most convenient for the deployed person. If you're both on duty overseas but far apart, choose whose time zone will prevail for daily communication or how you'll alternate.
If you're home and your partner is overseas, it's on you to be flexible and accommodating. Your partner isn't in charge of their schedule, so be adaptable to changes they need to stay connected with you.
Don't panic if your partner misses a scheduled call. They may not have been able or allowed to give you advance warning that they'll be incommunicado for a while. Keep sending cards and letters, stay busy, and believe that "no news is good news" until you hear from your partner again.
Long-distance relationships are hard on all couples, but they pose unique challenges for military couples. Fortunately, the community of military partners is incredibly supportive and will help you get through the tough times as you wait to be reunited with your partner.